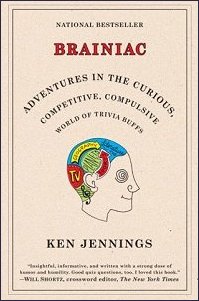 If you love Jeopardy, game show drama, or the little twinge of pride when you know something random about the world around you that no one else in the room can quite remember, please read this book.
Not only do I love following the story of Ken's 75-game streak on Jeopardy, (I remember it vividly – I watched a downloaded video of his losing game over and over and swore to all my friends he was tired of winning and threw the game)… Not only do I love playing along with the trivia sprinkled in every chapter (I get a measly three or so answers per chapter)… but I love Ken's genuinely entertaining, intelligent, witty writing style.
As I might have insinuated – this book might not be for everyone. But if you've always wondered what it would be like to grace the Jeopardy stage – it's a must read.
Even if you're not leaping out of your chair to grab this book – go check out Ken's blog. His wit doesn't stop at paper.
NOTE: this is book number 6 of 10 (7 of the ten are the Harry Potter series) that I have resolved to read in 2008. Tracking pretty well, if I do say so myself.